AB & 14KT – Lover's Galaxy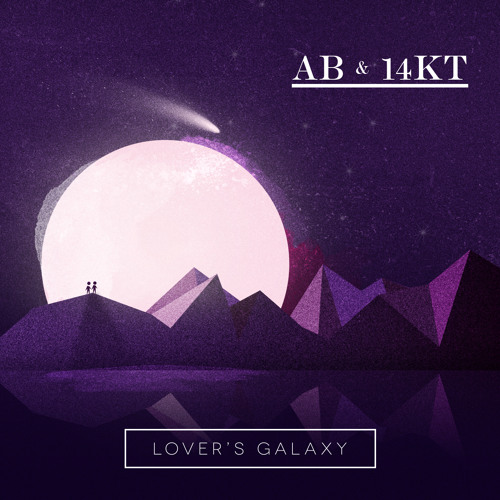 On November 12th, singer/songwriter Ab & beat-smith 14KT will release the collaboration album, "Saturn Return." Five years in the making, the progressive soul album was created during a transitory period of their lives.
While on the surface the album seems to be about a story of a man and woman, it's also about growing up and reexamining choices to have a better future. Fittingly called Saturn Return after the astrological transit that everyone experiences between ages 27-30, this collaboration between Ab and 14KT show two artists that combine their years of musical experience and personal angst to create a soulful, galactic journey that everyone can relate to.
The first single from the album is a co-produced funk record titled "Lover's Galaxy" that is reminiscent of legends "Zapp & Roger" due to Ab's use of the vocoder on top off 14KT's rhythmic drum pulse. "Lover's Galaxy" is the introduction to the holy matrimony of 14KT's hard-hitting drums and euphoric atmosphere coupled with Ab's melodic and soulful approach to instrumentation.
"Lover's Galaxy" is also the beginning of the story of "Ab" and "Lalah", two fictional characters that are caught in a whirlwind romance throughout the entire Saturn Return album. On this record we meet Ab as he's attempting to court Lalah and encouraging her to "let her guard down." The invitation is as much for Lalah as it is for the listener that is beginning this journey into a rare soul album with a definitive purpose.
Lover's Galaxy is available for free download at www.saturnreturnalbum.com
About Ab:
Aaron Abernathy, professionally known as Ab, is a multi-talented musician — singer, songwriter, producer, and entertainer. Born in Cleveland, Ohio, Ab joined the ranks of artists like Donny Hathaway and Roberta Flack as a graduate from the prestigious music program at Howard University, where he sharpened his vocal abilities and musicianship. With outstanding talents as both a keyboard player and a vocalist, he has collaborated and acted as musical director for global touring acts Black Milk and Slum Village as well as collaborated with Grammy-nominated artists including Jack White, The Foreign Exchange, and Eric Roberson.
About 14KT:
Kendall Tucker, professionally known as 14KT, is an extraordinary producer/DJ hailing from Ypsilanti, Michigan. As a two-time winner of Red Bull's Big Tune national beat battle competition, 14KT has produced for the likes of Mayer Hawthorne, Bun B, Jay Electronica, and Aloe Blacc. As a DJ he's performed at SXSW as well as one of the most influential venues for the 'beat music' genre, "Low End Theory." 14KT has also been spotted on tour with Mayer Hawthorne, across the U.S. and Canada, and throughout Europe.
For more information contact:
Jeff Klein
Jeff@asideworldwide.com